FLORIDA HOSPITAL FOR CHILDREN
The information on this website is not a substitute for examination, diagnosis, and medical care provided by a licensed and qualified health professional. Please consult your physician before undertaking any form of medical treatment and/or adopting any exercise program or dietary guidelines. If you think you may have a medical emergency, call your physician or 911 immediately. Florida Hospital reserves the right to add, remove, or edit content on this page at its sole discretion. Privacy Policy.
or call us at 855-836-5033 .
REQUEST AN APPOINTMENT
Setting A New Standard In Pediatric Cancer Care
We offer groundbreaking treatments for pediatric cancer and blood disorders right here in Florida.
Get World-Class Care Close To Home
A childhood cancer diagnosis is challenging enough without the added stress of having to travel far from home for treatment. We're honored to offer parents leading-edge medical treatment and compassionate, family-focused care that's conveniently close to home.
Here is what makes us unique:
We're the first hospital in Central Florida to have neuro-oncology and neurofibromatosis programs.

We

'

re a Duke Health affiliate in pediatric bone marrow transplant, the only program of its kind in Central Florida.

We're recognized by Children's Medical Services as one of the few centers able to treat sickle cell anemia and rare blood disorders, reducing travel burden on our families.

We offer certified Child Life Specialists to assist you and your child through exams and treatment with fun and creative interventions and support customized for their developmental stage.

With the help of Walt Disney Imagineering and input from patients, families, and clinicians, our seven-story, technologically advanced facility features a child-centered healing environment.

The Greatest Care For Our Youngest Patients
At Florida Hospital for Children, your child's care will be handled by a highly skilled team of medical professionals with extensive experience in pediatric oncology and hematology. Our team has successfully treated a wide range of conditions, from leukemia and blood disorders to lymphoma and sickle cell anemia.
Showing Compassion And Instilling Hope
At Florida Hospital for Children, our skilled pediatric oncologists and specialists are dedicated to putting cancer into remission and making families whole again. Learn more about our world-class doctors and hear firsthand from a family about their harrowing but hopeful cancer journey.
More Options That Cover More Ground
Our hospital is the heart of a children's network that includes primary care pediatricians, specialty clinics, emergency departments, and Kids Urgent Cares.
Across Central Florida, there are more than 300 dedicated pediatric beds, with 200 of them located at the children's hospital in Orlando. Four dedicated ambulances and one helicopter provide emergency transfers. We're staffed with a highly trained PICU and NICU transport team that supports regional hospitals within an 85-mile radius, including 13 adjacent Florida Hospital locations.
And no matter which of our facilities you visit, you will receive the same special brand of care. We're here to heal — body, mind, and spirit.

At Florida Hospital for Children, we have been nationally recognized for our leadership in advanced treatments, breakthrough research, and the compassionate care of children and their families.
We're On A Mission To Advance Pediatric Care
Florida Hospital for Children is a Duke Health affiliate in pediatric bone marrow transplant. The Duke Pediatric Blood and Marrow Transplant Program is a nationally and internationally recognized leader in caring for children with blood and bone marrow diseases.
For a second time, the American Nurses Credentialing Center (ANCC) has granted Florida Hospital for Children Magnet® recognition, which establishes the hospital as a national leader in nursing and patient care. Only seven percent of the nation's hospitals have received this recognition.
Take The Next Step In Your Child's Care
Our team of medical experts is dedicated to ensuring you have the information and resources you need. This guide was created to help answer some of the questions you may have, such as:
What are the different types of cancer?

What are blood disorders?

How does Florida Hospital for Children treat these conditions?

BRAIN AND SPINE TUMORS
There are many types of brain and spine tumors, both cancerous and benign. Our care team will work together to create an effective treatment plan, customized to your child. Treatment options may include surgery, chemotherapy, and radiation therapy, combined with counseling and support for your whole family.
BONE MARROW TRANSPLANT
Bone marrow transplantation is a cure for many types of cancer and blood disorders. Florida Hospital for Children is a Duke Health affiliate in pediatric bone marrow transplant. This relationship gives us access to advisory and operational support services to develop our own pediatric bone marrow transplant program. Plus, we have access to the clinical experience and expertise in program development from the Duke Pediatric Blood and Marrow Transplant Program, a nationally and internationally recognized leader in caring for children with blood and bone marrow diseases.
LEUKEMIA AND OTHER BLOOD DISORDERS
Our medical professionals are dedicated to treating and healing children who suffer from cancers like leukemia and blood disorders like sickle cell anemia, hemophilia, and many others. Our highly skilled teams will design the safest personalized treatment plan possible for your child. This plan may include chemotherapy, drug combinations, radiation, bone marrow transplant, or other therapies.
LYMPHOMA
Lymphoma is a cancer that starts in a child's lymphatic tissues. It falls into two main categories: Hodgkin's lymphoma and non-Hodgkin's lymphoma. Our specialists use the latest chemotherapy and radiation treatments to tackle this form of cancer.
NEUROFIBROMATOSIS
This condition causes tumors along the nerves and skin. At our neurofibromatosis clinic — the first and largest in the region — our experienced professionals use leading-edge equipment and therapies to treat this disorder. They are also at the forefront in the research and testing of promising new therapies.
Thank You
Thank you for taking the next step with Florida Hospital For Children. Our care coordinators have received your request and will reply to your appointment request within 48 hours.
NATIONALLY RECOGNIZED FOR PATIENT SAFETY
The Leapfrog Group has recognized Florida Hospital for Children as one of the top children's hospitals in the United States. This elite distinction was given for excellence in patient safety and rates the quality of our care as the highest in the nation. We're honored to be one of only 10 children's hospitals to earn this recognition from America's premier advocate for hospital transparency.
New advances in cancer treatment are happening all the time. In this video, David R. Shook, MD, shares how "technology that we used to think was inconceivable is now commonplace... The next treatment is literally right around the corner." You'll also hear from Fouad Hajjar, MD, as he talks about how treating kids with cancer is all about showing compassion and instilling hope.
When doctors suggested that eleven-month old Grant be screened for cancer, he was transferred in the middle of the night to Florida Hospital for Children. Within 24 hours, he was diagnosed with Leukemia. Grant's parents temporarily moved to Orlando while he received chemotherapy — but this family's story was far from over. Learn more about their journey and how Grant's new baby brother became a life-saving part of Grant's treatment.
Thank You
Your guide is ready for download below. We hope the guide answers any questions you have and helps you take charge of your health.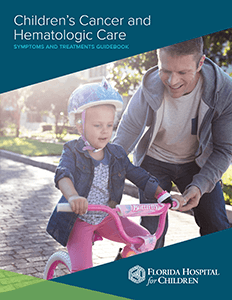 DOWNLOAD YOUR GUIDE
DOWNLOAD YOUR GUIDE
DOWNLOAD YOUR GUIDE
DOWNLOAD YOUR GUIDE