FLORIDA HOSPITAL FOR CHILDREN
The information on this website is not a substitute for examination, diagnosis, and medical care provided by a licensed and qualified health professional. Please consult your physician before undertaking any form of medical treatment and/or adopting any exercise program or dietary guidelines. If you think you may have a medical emergency, call your physician or 911 immediately. Florida Hospital reserves the right to add, remove, or edit content on this page at its sole discretion. Privacy Policy.
or call us at 855-839-9243.
REQUEST AN APPOINTMENT
World-Class Care For The Center Of Your World
We're here to provide you with the information and resources you need for your child's neurological care.
Experience World-Class Treatment, Close To Home
Our physicians, surgeons, specialists, and nurses have extensive experience treating conditions such as epilepsy, headaches, concussions, Chiari malformations, craniofacial disorders, and neurofibromatosis.
Families travel to us from around the world because they know we offer state-of-the-art technology, a Level IV Comprehensive Epilepsy Center, advanced imaging technology, and world-renowned sleep centers, designed especially for our little patients.

The Greatest Care For Our Youngest Patients
At Florida Hospital for Children, our skilled and dedicated medical team successfully treats a wide range of conditions using the most advanced tools and the safest possible therapies. Our neuroscience medical directors are early adopters — and even innovators — of the most advanced treatments available.

Florida Hospital for Children is also home to a non-invasive and safe brain-mapping procedure called "magnetoencephalography," which provides the most accurate picture possible of your child's brain activity. This exciting technology helps doctors identify the source of what is causing your child's condition.
We Believe Teamwork Gets Better Results
In the neuroscience department at Florida Hospital for Children, doctors and surgeons follow a collaborative approach across many disciplines. Collaborating neurologists, neuropsychologists, neurosurgeons, social workers, and therapists have successfully treated thousands of children battling conditions ranging from epilepsy and brain tumors to sleep disorders. In this video, our medical directors talk about the team's commitment to helping kids overcome their challenges and lead normal, healthy lives.
More Options That Cover More Ground
Our hospital is the heart of a children's network that includes primary care pediatricians, specialty clinics, emergency departments, and Kids Urgent Cares.
Across Central Florida, there are more than 300 dedicated pediatric beds, with 200 of them located at the children's hospital in Orlando. Four dedicated ambulances and one helicopter provide emergency transfers. We're staffed with a highly trained PICU and NICU transport team that supports regional hospitals within an 85-mile radius, including 13 adjacent Florida Hospital locations.
And no matter which of our facilities you visit, you will receive the same special brand of care. We're here to heal — body, mind, and spirit.

At Florida Hospital for Children, we have been nationally recognized for our leadership in advanced treatments, breakthrough research, and the compassionate care of children and their families.
We're On A Mission To Advance Pediatric Care
Florida Hospital has the only epilepsy center in Central Florida designated Level IV, the highest designation from the National Association of Epilepsy Centers, for both adult and pediatric epilepsy.
The Tuberous Sclerosis Alliance has designated Florida Hospital for Children as a Tuberous Sclerosis Clinic. TSC clinics can play an important role in improving the lives of those affected with these non-malignant tumors. There are only 40 of these clinics in the United States.
TUBEROUS SCLEROSIS CLINIC
Take The Next Step In Your Child's Care
Our team of medical experts is dedicated to ensuring you have the information and resources you need to understand your child's neurological symptoms or condition. This guide was created to help answer some of the questions you may have, including:
Can my child live a seizure-free life?

What are neurological conditions?

What are the latest, most advanced treatments for these conditions?

What treatments are available for my child's learning disability?

CHIARI MALFORMATIONS
Chiari malformations are structural defects in the cerebellum, the part of the brain that controls balance. We partner with Neurosurgeons for Kids, to provide highly advanced medical and surgical management options, treating young patients from across the country.
CONCUSSIONS
Sometimes it can be hard to tell the difference between a harmless bump on the head and something more serious. Our pediatric concussion experts have the experience, equipment, and skill to tell the difference. We take a team approach to assess and treat mild traumatic brain injuries and concussions in children of all ages.
CRANIOFACIAL DISORDERS
Craniofacial anomalies are deformities that affect a child's head and facial bones. These disorders are typically present at birth and can range from mild to severe. Florida Hospital for Children has a dedicated neurosurgical suite equipped with highly advanced computer-assisted technologies that help guide our skilled surgeons.
EPILEPSY
While the causes of epilepsy can vary, it is generally a result of a disruption of electrical signals in the brain. Our goal is to identify what is causing your child's seizures and to effectively treat them so your child can live a seizure-free life. We are a destination treatment facility for epilepsy — one of the largest and most comprehensive programs in the nation — offering you the most advanced diagnostics, technologies, and treatments available.
NEUROFIBROMATOSIS
Neurofibromatosis is a genetic disorder in which tumors grow on nerve tissues. These tumors may be harmless or may cause serious damage by pressing on nerves and other tissues. Our Neurofibromatosis Clinic is the second-largest in the country, seeing more than 400 patients each year. Our physicians are highly skilled at accurately diagnosing this condition and providing care for the symptoms that typically occur.
For a second time, the American Nurses Credentialing Center (ANCC) has granted Florida Hospital for Children Magnet® recognition, which establishes the hospital as a national leader in nursing and patient care. Only seven percent of the nation's hospitals have received this recognition.
Thank You
Thank you for taking the next step with Florida Hospital For Children. Our care coordinators have received your request and will reply to your appointment request within 48 hours.
NATIONALLY RECOGNIZED FOR PATIENT SAFETY
The Leapfrog Group has recognized Florida Hospital for Children as one of the top children's hospitals in the United States. This elite distinction was given for excellence in patient safety and rates the quality of our care as the highest in the nation. We're honored to be one of only 10 children's hospitals to earn this recognition from America's premier advocate for hospital transparency.
HEADACHES
We know how debilitating headaches can be and how hard their symptoms are to manage. At the Center for Child Neurology, our ultimate goal is to bring comfort and relief to children suffering from frequent headaches of any kind. While both children and adults get headaches, symptoms and causes may differ. Our experts work together to create a comprehensive evaluation and treatment plan for your child.
Thank You
Your guide is ready for download below. We hope the guide answers any questions you have and helps you take charge of your health.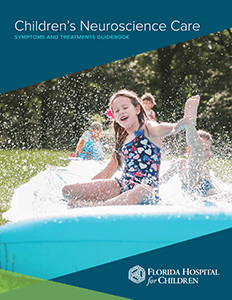 DOWNLOAD YOUR GUIDE
DOWNLOAD YOUR GUIDE
DOWNLOAD YOUR GUIDE
DOWNLOAD YOUR GUIDE
NATIONALLY ACCREDITED EEG LABORATORY
Our EEG Lab has been accredited by ABRET, which encourages and promotes quality technical and clinical standards world-wide for neurodiagnostic laboratories through certification and accreditation. We are the only lab certified in Central Florida for both adults and children.