FLORIDA HOSPITAL FOR CHILDREN
The information on this website is not a substitute for examination, diagnosis, and medical care provided by a licensed and qualified health professional. Please consult your physician before undertaking any form of medical treatment and/or adopting any exercise program or dietary guidelines. If you think you may have a medical emergency, call your physician or 911 immediately. Florida Hospital reserves the right to add, remove, or edit content on this page at its sole discretion. Privacy Policy.
Big Hope For
Little Hearts
We're here to provide you with the resources and expertise you need for your child's cardiac care.
We've Got Lots Of Love For Your Little Loves
As a parent, you want to protect your child's heart in every way possible. You want only the best-trained and most compassionate doctors, surgeons, and specialists available to care for your child. That's why Florida Hospital for Children provides some of the finest pediatric heart care experts in the country. Our cardiac team offers the most advanced tools and treatments available, specifically designed for a child's unique physiology.
We treat the full spectrum of heart conditions, including arrhythmias, cardiomyopathy, congenital heart defects, and vascular disease. And, if you're a mother-to-be, we specialize in detecting and diagnosing heart conditions during pregnancy so even our tiniest patients can receive world-class treatment immediately after, or even before, they're born.
The Greatest Care For Our Youngest Patients
At Florida Hospital for Children, our skilled and dedicated medical team successfully treats a wide range of conditions using the most advanced tools and the safest possible therapies.
How We Care For Your Whole Family
At Florida Hospital for Children, our highly skilled cardiologists, surgeons, and specialists are dedicated to healing kids with heart issues. We understand that this treatment affects your whole family and can be overwhelming for patients, parents, and siblings. That's why we designed Florida Hospital for Children from the ground up to be a welcoming place for kids where we can take care of their emotional needs as well as their medical needs.
More Options For More Added Comfort
Our hospital is the heart of a children's network that includes primary care pediatricians, specialty clinics, emergency departments, and Kids Urgent Cares.
Across Central Florida, there are more than 300 dedicated pediatric beds, with 200 of them located at the children's hospital in Orlando. Four dedicated ambulances and one helicopter provide emergency transfers and are staffed with a highly trained PICU and NICU transport team that supports regional hospitals within an 85-mile radius, including 13 adjacent Florida Hospital locations.
And no matter which of our facilities you visit, you will receive the same special brand of care. We're here to heal — body, mind, and spirit.
At Florida Hospital for Children, we have been nationally recognized for our leadership in advanced treatments, breakthrough research, and the compassionate care of children and their families.
We're On A Mission To Advance Pediatric Care
Florida Hospital for Children has joined Johns Hopkins Children's Heart Surgery program — one of the nation's leading pediatric congenital heart surgery programs — to help deliver the very best in children's open-heart surgery to Central Florida.
JOINING FORCES WITH JOHNS HOPKINS
For a second time, the American Nurses Credentialing Center (ANCC) has granted Florida Hospital for Children Magnet® recognition, which establishes the hospital as a national leader in nursing and patient care. Only seven percent of the nation's hospitals have received this recognition.
Our team of medical experts is dedicated to ensuring you have the information and resources you need to understand your child's heart condition and symptoms. This guide was created to help answer some of the questions you may have, including:
How are heart conditions diagnosed?

Is pre-natal diagnosis safe?


What are the symptoms of heart conditions?

Will heart surgery be necessary for my child?
ARRHYTHMIAS
When your child's heart beats in an irregular pattern, either too fast or too slow, this is known as an arrhythmia. Fortunately, most arrhythmias are highly treatable through a procedure called catheter ablation. During this treatment, the tissues that are altering the electrical signals in the heart are modified to permanently correct the rhythm and improve the timing of contractions. Almost all these procedures can now be done "fluoroless" — meaning without radiation. We also have the latest technology in pacemakers, defibrillators, and monitoring devices.
CARDIOMYOPATHY
Cardiomyopathy means "a disease of the heart muscle." It is a rare condition that causes an overly enlarged and thickened heart. It has many different forms and requires a treatment plan that is customized specifically to your child's needs. If your child's condition requires surgery, rest assured that he or she will be in the hands of world-class surgeons.
CONGENITAL HEART DEFECTS
One of every 125 babies born in the United States is born with a congenital heart defect. Our pediatric cardiology team includes world-renowned experts who are at the forefront of new techniques, technologies, and treatments for even the most challenging heart defects.
VALVE DISEASE
In valve disease, blood is either unable to flow forward because of a blocked valve or leaks backward into the heart's chambers because of a defective valve. These conditions can cause the heart to work harder, making it more difficult to pump blood to the body as the heart weakens.
FETAL CARDIOLOGY
Our highly advanced diagnostic tools use harmless sound waves to capture accurate images of your baby's heart before delivery. This allows your doctor to help you make informed decisions about treatment.
CARDIAC SURGERY
If your child needs heart surgery, you need peace of mind that they're in the most compassionate, capable hands. Our expert teams are trained in pediatric open-heart surgery and minimally invasive heart surgery. From initial diagnosis to post-operative care, we'll guide you and your child each step the way.
Four of the physicians on our cardiology team share their thoughts about the compassionate care they provide, and why it matters to them. "Some people have an affinity for children," says Constantine Mavroudis, MD. "I guess I'm one of them."
When Matias was born, the doctors at Florida Hospital for Children discovered that he had a form of aortic stenosis (a very small aortic valve). He was admitted to the Pediatric Cardiac ICU less than 24 hours after he was born, where he was treated by Dr. Frank Pigula and the pediatric congenital heart surgery team. Matias's mom shares her harrowing story and happy ending.

Watch the Spanish-language version.
Thank You
Thank you for taking the next step with Florida Hospital For Children. Our care coordinators have received your request and will reply to your appointment request within 48 hours.
NATIONALLY RECOGNIZED FOR PATIENT SAFETY
The Leapfrog Group has recognized Florida Hospital for Children as one of the top children's hospitals in the United States. This elite distinction was given for excellence in patient safety and rates the quality of our care as the highest in the nation. We're honored to be one of only 10 children's hospitals to earn this recognition from America's premier advocate for hospital transparency.
Florida Hospital for Children is an ELSO (Extracorporeal Life Support Organization) Center of Excellence in collaboration with Florida Hospital. This distinguished award recognizes programs that provide exceptional care for high-risk patients needing specialized life support.
ELSO Center of Excellence Award
DOWNLOAD YOUR GUIDE
Thank You
Your guide is ready for download below. We hope the guide answers any questions you have and helps you take charge of your health.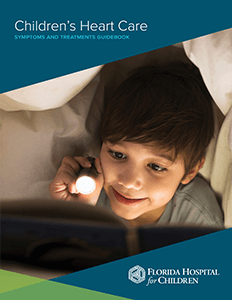 DOWNLOAD YOUR GUIDE
DOWNLOAD YOUR GUIDE
or call us at 855-840-5051 .
REQUEST AN APPOINTMENT
Take The Next Step In Your Child's Care
DOWNLOAD YOUR GUIDE