The information on this website is not a substitute for examination, diagnosis, and medical care provided by a licensed and qualified health professional. Please consult your physician before undertaking any form of medical treatment and/or adopting any exercise program or dietary guidelines. If you think you may have a medical emergency, call your physician or 911 immediately. Florida Hospital reserves the right to add, remove, or edit content on this page at its sole discretion. Privacy Policy.
or call us at 855-840-9796.
REQUEST AN APPOINTMENT
Special Care For
Your Special Delivery
At Florida Hospital for Women, we've designed our approach to personalized pregnancy care around you and your baby — from conception to birth and beyond. With five convenient labor and delivery locations in Altamonte Springs, Celebration, Orlando, Winter Park, and Tavares, you won't find a more integrated, comprehensive pregnancy care destination in Florida.
DOWNLOAD YOUR GUIDE
Experience A Different Approach To Pregnancy Care
We believe in treating the whole person, so we've left no detail untouched in our pursuit of creating a space that will support you in body and mind through your pregnancy journey. From spacious, beautifully appointed mother-baby rooms to one of the most advanced, high-risk pregnancy medical units in Florida, each location caters to the individual needs of growing families, including:
Breastfeeding support

High-risk pregnancy support and treatment

Highest level neonatal intensive care unit (Level III NICU)

Parent education

Special focus is placed upon the health and well-being of both mother and child throughout the pregnancy, as evidenced by specialties in fertility issues, comprehensive fetal medicine, breastfeeding support, and parent education. Plus, we provide patients and families with an extraordinary network of neonatal care through a world-class team of physicians, surgeons, nurses, and support staff in incomparable facilities throughout Central Florida.
We respect that your pregnancy care and delivery experience are unique to you. Our obstetric physicians and staff have one common goal in mind — doing everything we can to help you experience the true joys of labor and delivery. We provide women and babies with the highest possible standard of care in all areas of obstetrics within a compassionate, family-centered environment.
A Birth Plan Built Around You
According to Vickie Smith, RN, the doctors and nurses at Florida Hospital for Women strive to make your experience unique to your wishes and beliefs. "It's kind of like your wedding day," she said. "You get to plan the birth of your baby." For new moms and their families, that means talking to a concierge about options that may be available, like a whirlpool tub, fully stocked refrigerator, spa services, room-service, and special sibling baskets.
Delivering On
The Services
You've Hoped For
Your Birth Experience Team is comprised of nurses and certified childbirth educators with one goal: to make the birth of your child extraordinary. This complimentary service includes a one-on-one consultation to discuss your expectations and explore the services and amenities available to make your family feel supported and cared for.
We also specialize in creating a relaxing environment by serving as your personal liaison between your family, your doctor, and the hospital. We'll help you navigate through insurance requirements, assist with forms, and advise you on what to expect throughout the process.

Florida Hospital for Women is nationally recognized for our leading-edge treatments specifically designed for women's evolving health care needs.
We're On A Mission To Advance Women's Health Care
Florida Hospital is recognized as the best hospital in Central Florida by U.S. News & World Report.
BEST REGIONAL HOSPITAL U.S. NEWS & WORLD REPORT
Florida Hospital for Children is recognized by U.S. News & World Report as a Best Children's Hospital for newborn care.
BEST CHILDREN'S HOSPITAL U.S. NEWS & WORLD REPORT
We're Beside You At Every Stage
Our medical experts and care coordinators have created this guide to help you understand our services and leading edge facilities as well as the continuum of care you'll receive — from family planning to conception to birth and beyond. You'll get answers to questions, including:
Are lactation consultants and breastfeeding resources available?

Are there resources available to prepare me for being a new mom?

Can you help me select a pediatrician?

How can I customize my labor experience?

What happens if my baby needs care right after birth?

SPECIALIZED PATIENT AND FAMILY AMENITIES
Florida Hospital for Women provides extraordinary services and amenities designed to make your family feel cared for and comfortable, from solar and black-out window shades for privacy to custom robes and luxury gowns designed to accommodate breastfeeding. Your room can even have a private refrigerator stocked by our concierge with your preferred drinks and snacks. Rooms are designed to give you a constant line of sight to your baby, including when the NICU team is needed. And your birth care coordinator will be on hand to provide you with personal attention and support throughout your entire pregnancy.
EXPERIENCED IN HIGH-RISK PREGNANCIES
At Florida Hospital for Women, we specialize in both routine and high-risk pregnancies. Patients have access to our specially trained neonatologists and our network of Level III and II neonatal intensive care units. This depth of expertise and advanced technology can make a crucial difference when unexpected emergencies occur. Our patients also have the benefit of our network of specialists throughout Florida Hospital for Women and Florida Hospital for Children if they're needed.
FOCUSED ON HEALTH EDUCATION
The Florida Hospital for Women team is passionate about education that gives you and your family the confidence and knowledge you need to embark on this new phase of life. At all five of our birthing centers we offer parent education classes on childbirth, baby care, breastfeeding, transition to parenthood, infant/pediatric CPR, and many more. New and prospective mothers can also take advantage of our Mom's Store and Breastfeeding Center for a selection of rental items and products to help with nursing.
Experience Care Designed For You
Your Birth Experience Team is standing by to guide you through every phase of pregnancy, childbirth, and beyond. We will reply to your appointment request within 48 hours.
Thank You
Thank you for taking the next step with Florida Hospital. Our care coordinators have received your request and will reply to your appointment request within 48 hours.
DOWNLOAD YOUR GUIDE
DOWNLOAD YOUR GUIDE
NATIONALLY RECOGNIZED FOR PATIENT SAFETY
Florida Hospital is recognized as one of America's highest-rated hospitals for patient safety by The Leapfrog Group.
Thank You
Your guide is ready for download below. We hope the guide answers any questions you have and helps you take charge of your health.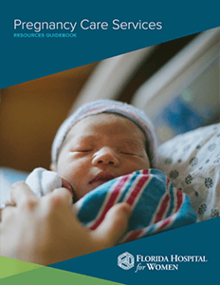 DOWNLOAD YOUR GUIDE